Features
Simple Construction allows Trouble Free Operation

No filter or demister

Excellent Dust Collection Efficiency

8micron particles 100% collection with Single Scrubber
1micron particles 99% collection with Double Scrubber

Prevents Explosions and Fires

Uses water so no risk of fire or explosion

Pump Unnecessary

The gas itself forces water up eliminating the need for a pump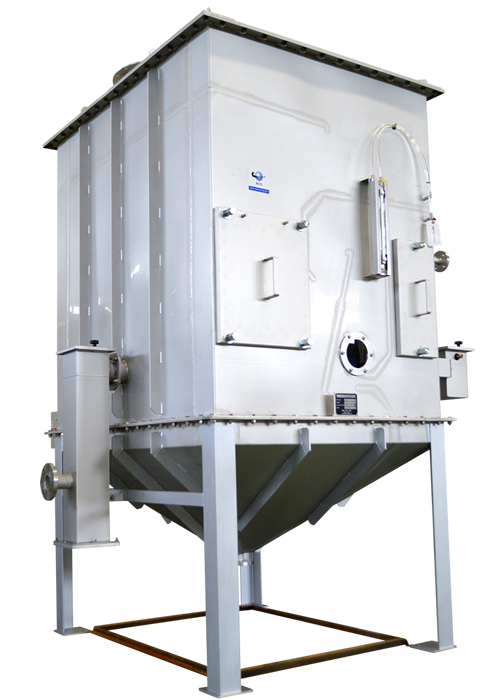 Principle・Structure
Dust laden gas blasts through the Throat Section, combines with water forcing it upwards to collide forcefully with the Scrubber walls
Gas is enveloped by fine particle water in the Scrubbing Section resulting in highly effective gas-liquid mixing and excellent dust collection.
The Drain Boards separate water from the cleansed gas. No water splashes enter the Exhaust Port.
Separated dust particles are discharged through the Overflow while sunken dust is discharged through the Hopper Drain.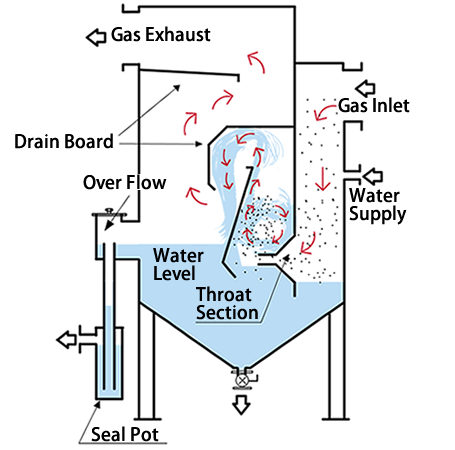 Single Scrubber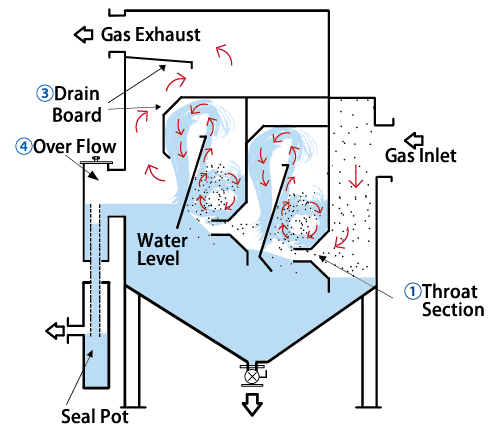 Double Scrubber
Watch the Wet Scrubber in action to understand its operation principle
Single Scrubber
Standard type (Wet Scrubber) in operation
Double Scrubber
The Scrubbing Section is in two levels for greater efficiency
Fire Prevention Test
This video shows how the Wet Scrubber prevents fires
Dust collection efficiency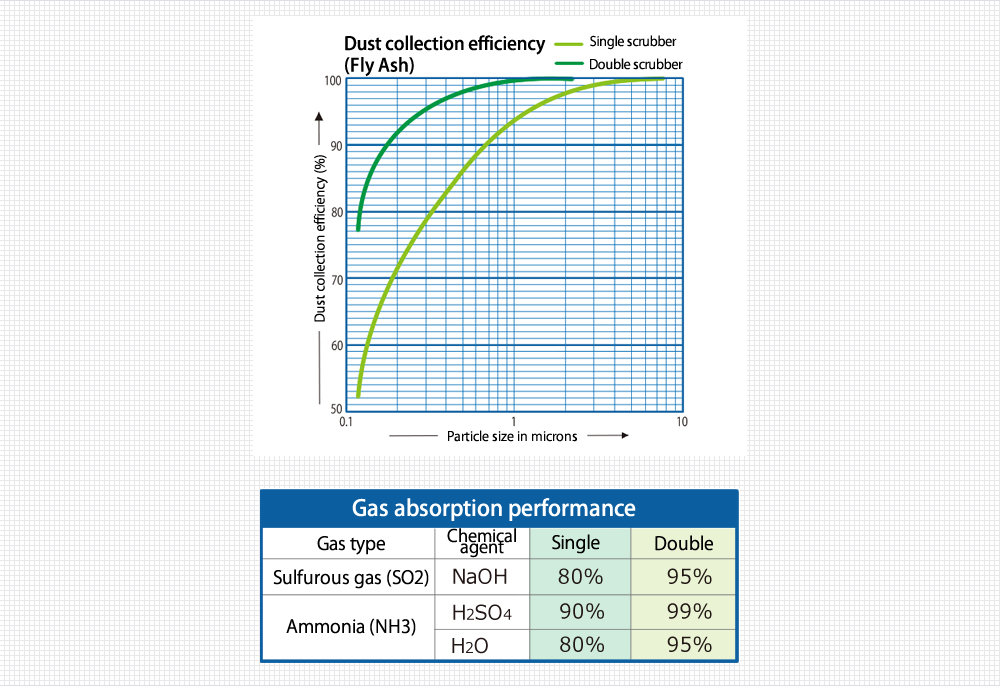 Uses- Achievements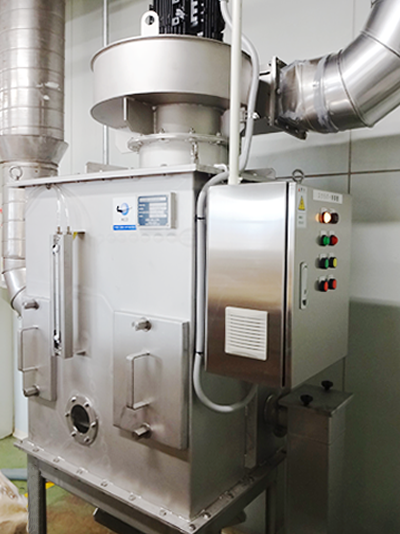 Main Uses
●
Wet dust collection (dryer exhaust gas)
●
High temperature exhaust gas dust
●
Flammable – Explosive dust
●
Poisonous gas absorption
●
Noxious gas absorption
Sales to date – Industries
2,450
wet scrubbers sold to various industries
(May 2018)
・・・・・・・・・・・・・・・・・・・・・・・・・
・Metal processing plant ・Chemical factory
・Food factory ・Steel mill ・Perfumery factory
・Fish meal ・Pharmaceutical factory
・Fertilizer factory ・Waste disposal plant etc…


Packed tower scrubber
Frequent clogging, poor air volume
Washing contents is troublesome
Needs regular pump and demister maintenance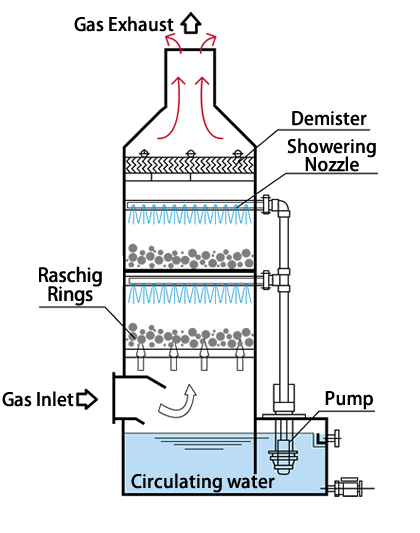 Excellent air flow, Dust collection
Simple design, Low maintenance
No pump necessary as gas propels water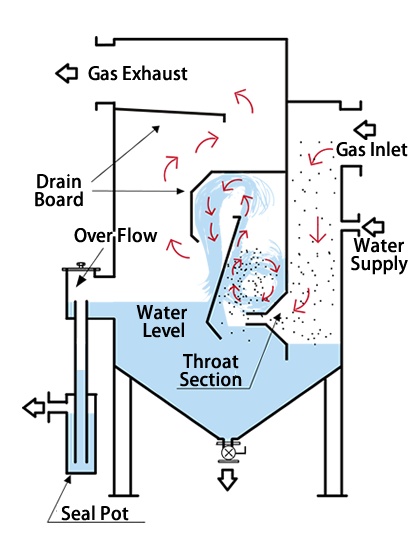 Models and Specifications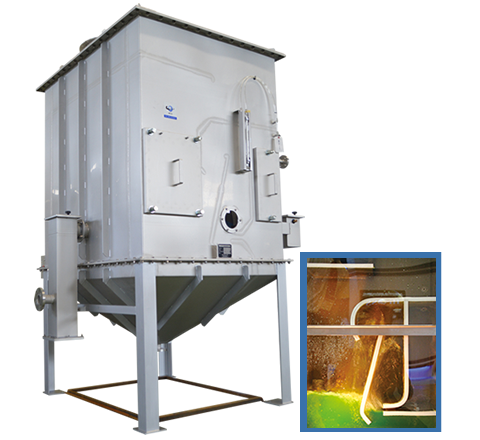 Wet Scrubber (WS)
Double Scrubber (DWS)
Specifications and Materials
All ACO products are order-made. Equipment is designed to match exactly with the customer's specific needs in terms of performance and space requirements, types of gasses being handled etc. Built from stainless steel (SUS304, 316L), choose from FRP.
Test equipment available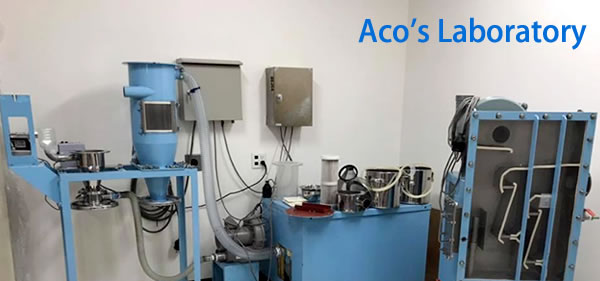 Catalogue download
Please download our catalogue online. When you click on one of the icons below, a download authentication form is displayed. After entering the required information, press "send".
If you would like a printed catalogue, please fill out the form below or contact us directly.
Adobe Reader
is required to read the PDF files.
Inquiries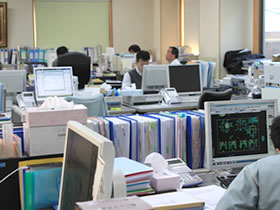 A sales engineer will directly address any of your questions. For inquiries by email, please complete the form below
---